Disclaimer: this article was written back in 2018 yet my position hasn't really changed. Except these days I'd recommend that you also check out glam TOYOTA ALPHARD & VELLFIRE if you're after a brand new or near new ultra-luxury MPV made in Japan.
How does one compare Kia Carnival (2015 and up) and Nissan Elgrand Highway Star E52 (2010-2012)?
Despite age difference both cars are full size MPV, they have similar dimensions and Kia's Platinum model has established itself as a luxury MPV in Australia.
First Impression
We test drove 2018 Kia Carnival Platinum with a 2.2 turbo diesel engine and all the bells and whistles.
I was disappointed as soon as I entered the cabin. Firstly, it didn't scream "luxury" to me. Everything I touched inside Carnival Platinum such as plastics, trims, knobs, etc. was much cheaper quality than in E52. Leather was too smelly and looked cheap as well.
Secondly, there was no recliner chairs with leg rests.
No drop-down DVD in the middle row…
And no floor mats at all, let alone quality tailored ones that should come as standard on a premium car.
No sunshades on passenger windows either.
Although Carnival looks "biggish" from outside it is actually 1750mm in height as opposed to E52's 1815mm, and Kia's cabin is a lot smaller. So lanky people will find Elgrand more comfortable to drive and use.
Kia has clever and practical design inside but there are hardly any innovations. For example, middle seat in the middle row doubling up as a table is a steal from Nissan Elgrand E51 (2004 -2010) and a not very good one at that: a Kia salesperson managed to fold it from the 5th attempt. The boot is very good and very practical but again nothing new: it is borrowed from Toyota Estima 2006- 2015: rear seats split 40/60 and fold flush with the floor.
Test Drive
2.2 turbo diesel was quiet but slow on acceleration and had slow dynamics even with three people in the car. Fully loaded it doesn't stand a chance. England's excellent and powerful 3,5L V6 outperforms Kia with great margin.
Automatic Transmission works really well on Kia and to my surprise changes gears smoothly. However, it feels very heavy to steer. A frightfully large jellyfish comes to mind, especially when cornering. The ride was quite bumpy, even on a good road. When you are driving an Elgrand, you feel like you are inside a sports refined sedan: it rides smoothly and handles extremely well.
It was quite noisy in Kia with closed windows while driving on a decent road at 70km an hour, while Elgrand's cabin is always very quiet, with little wind or road noise.
Features
Being a new generation vehicle Kia has a few clever features that simply aren't available on 2010-2012 Elgrand* for example such as Blind Spot and Lane Departure Warning.
However, Elgrand has a more comprehensive list of standard features on all models including ABS, VDC, AFS (active front lighting), 360 cameras, proximity entry and start and electric sliding doors.
AWD on Demand is a huge hit with my customers for extra safety on wet or unsealed roads, Thredbo getaways and tricky driveways on a slope.
Extra features include drop down monitors, premium Bose sound system or equivalent, Radar Cruise Control, Collision Avoidance Assist, and Moving Object Detection.
Reliability and Service
Average service bill for E52 is around $200, twice a year. It is very reliable as long as you put premium petrol and service it regularly. It is one of the cheapest cars of this size to run and maintain. Petrol consumption is around 12L combined. Under 9L on a highway + incredible joy to drive.
Kia service bill is going to be much more: due to 7 years warranty you are tied to their overpriced mechanical shop with a lot of hidden fees. Average service bill is $500-800. Twice a year as well.
Prices
As of August 2018 Kia Carnival is $65,900 for 2018 top of the range Platinum model.
Nissan Elgrand is not offered for sale brand new in Australia. Average market price for E52 model 2010 - 2012 is $30,000. Lower mileage ones can reach up to 40K plus depending on model (VIP, Rider or Highway Star).
Conclusion
If your sole purpose is to buy a brand new MPV with a Lane Departure Warning and you are itching to spend 65k plus, I guess you won't be disappointed with Kia Carnival.
But if you are a car enthusiast, looking for a great ride, genuine luxury and want to make every dollar count, do yourself a favour and check out Nissan Elgrand E52. You will come across a much more advanced, refined and higher-class vehicle and will save at least 30K.
Here's a few shots of the interior of 2010-2012 Nissan Elgrand E52: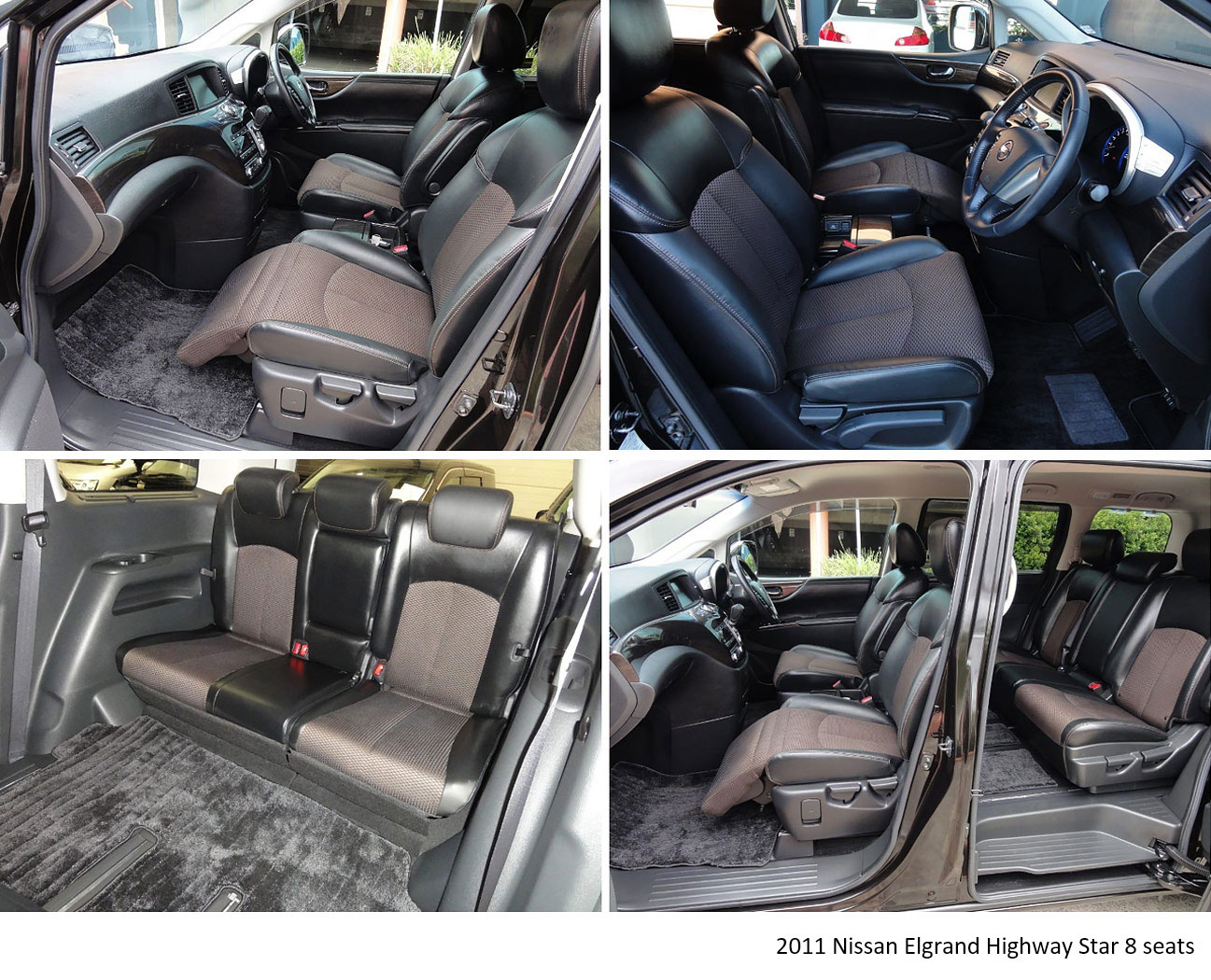 EDIT: Drove Kia a couple of years ago for a week in Far North QLD. 3-year-old Carnival with 50,000km. Not fun to drive, gearbox was already on its last breath, aircon noisy. And shabby inside compared to any of my JDM imports.
Photo credit: Wikipedia and personal archive
P.S. Want to know more? Feel free to Join my email list to stay connected + be in the know which vehicles are coming and which ones are going, which models are hot, and which are not and what's happening in our import industry.
Here's what else you'll get in my weekly emails:
How to read auction reports and verify mileage with real life examples

Differences between the models

Why 7 seats may be preferrable than 8

What to expect from the new import law (from 1st of April 2023) and how it's going to affect us.
Xo,
Natalia
Your JDM addict